Assisted Pull Up Bands, popularized by CrossFit, are a great way to strengthen your entire upper body by doing pull ups with the assistance of our power bands. Pull ups are an extraordinary multi-joint exercise, which means that it incorporates a set of complex movements that engage multiple muscle groups. This offers a few distinct advantages:
Efficiency : You burn more calories because more muscles are engaged.
Functional Training : Tones your body as a unit, training your muscles to work synergistically.
Decreased Risk of Injury : The simultaneous activity of multiple muscle groups creates a harmonious pattern that helps to prevent injury during a workout.
Using Pullup Bands
The single most important factor in dominating your pull-ups is to believe in yourself! Your age, gender and body composition are no excuse, especially with a boost from our assisted pull up bands. The best way to get better at pull-ups is to do pull-ups. Here is how with our flex bands: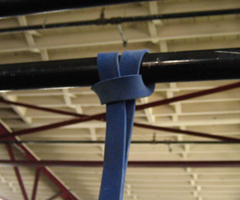 Step 1
Loop a band over the pull up bar as shown, making sure to pull the loop tight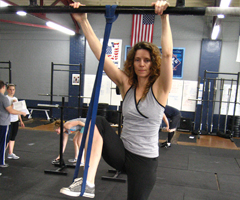 Step 2
Place a foot in the resistance band and then grab a hold of the chin-up bar and pull yourself up.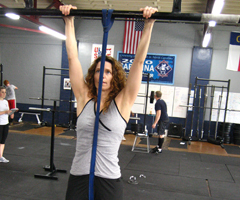 Step 3
Place a foot in the resistance band and then grab a hold of the chin-up bar and pull yourself up.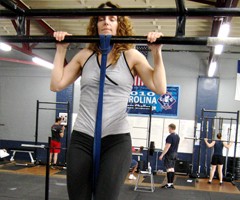 Step 4
Continue until exhaustion.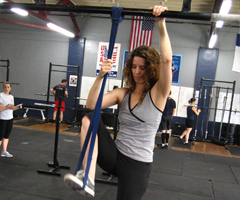 Step 5
Step down carefully and release yourself from the bar. Step one foot out first to avoid snap backs.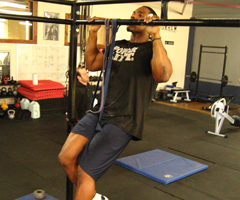 Variation
Another approach is to insert one or both knees into the band instead of your foot.
Which band is best for me?
The most common question we get at Rubberbanditz is "which pullup band is right for me?" Before we answer that, let's start with the basics, How much resistance does each band have? We created this table to answer that for you:
| | | | |
| --- | --- | --- | --- |
| Exercise bands | Lay Flat Length | Width | Resistance |
| Light | 41″ | 1/4″ | 5 to 15 |
| Medium | 41″ | 1/2″ | 20 to 35 |
| Heavy | 41″ | 3/4″ | 30 to 50 |
| Robust | 41″ | 1-1/8″ | 40 to 80 |
| Power | 41″ | 1-3/4″ | 50 to 120 |
| Strong | 41″ | 2-1/2″ | 60 to 150 |
| Monster | 41″ | 4″ | 80 to 200 |
| Agility | 6′ | 1-3/4″ | 175 to 225 |
| Explosive | 10′ | 2″ | 225 to 275 |
Still confused? Thats why we created the following table. All you need to know is your weight and the number of pull-ups that you can already do. Once you find your band or band combo, click on it to see the item in our store.
Some boxes in the chart call for a single band, but since the bands are all the same length, you can combine some bands to equal the same assistance as others.
Why would you do this?
Well, as you get stronger you can lower the assistance to account for your new strength by using different bands. For example a robust (purple) combined with a heavy (black) band, offers roughly the same amount of resistance as the power (green) band. This combination gives you three different levels of assistance (one with the heavy band, one with robust, and one with both bands)
This accommodates both gradual increases in strength and allows you to do drop sets – i.e. doing a set with just the robust band until you can't do any more reps and then adding the heavy band to eek out a few more reps to maximize your energy. Before you know it you'll be a pull-up cranking machine! See below for the substitutions:
*Remember that our mobile gym kits come with an assortment of bands, accessories and training material, offering total gym capabilities with over 200 possible exercies. Our powerlifting bands/weight lifting bands, Pilates bands, sprinting bands, and CrossFit simulated Mobile Wod have a variety of functions to complete your full body workout.
VISIT PULL-UP BAND STORE »