Store

/

Standard Mobile Gym Kit in a Bag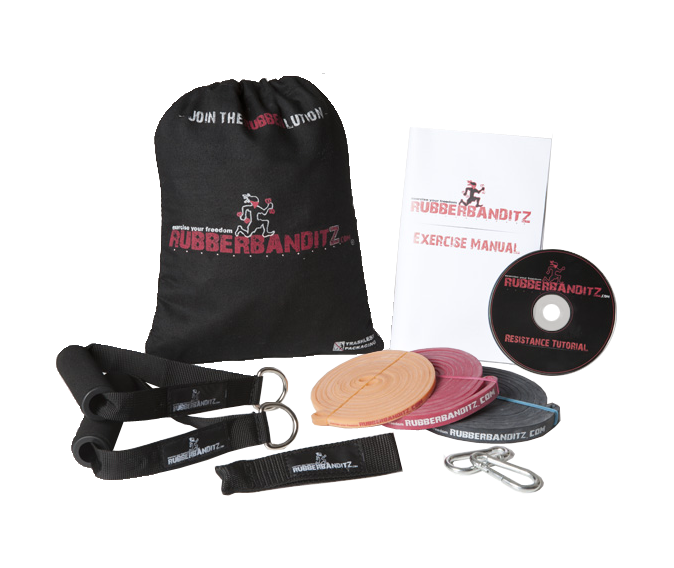 Reviews::
Click here to submit your review.
---
---
Standard Mobile Gym Kit in a Bag
SKU
UPC
Model
Love the whole set!
Oct 07, 2013
by
Debra Klett
Instructions, bands, carries in one small bag for one the road, what more could I ask for? And it's just what my doc wants me doing! Great, great, great!

---
Awesome!
The kit is light a compact, perfect for traveling! The variety of exercises you can do with the bands is great. International shipping to Thailand was quick. And the bands seem quite strong and durable.

---
Great product
Excellent kit, I'm very satisfied. International shipping to Japan was fast and cheaper than expected (probably because the kit is sent as a letter). I Would have given 5 stars if the kit included 2 ankle straps, which are essential for a "standard" kit in my opinion.

---
Standard Mobile Gym Kit in a Bag
The basic package PLUS a heavy band to intensify your workouts. This is the perfect package for anyone looking to throw their weight around and/or increase muscle mass.
Weighing in at less than two pounds, this heavy hitter really packs a punch bunch of bands. Includes enough equipment for two people to work out at the same time.
NOTE: Colors may vary. All circular exercise bands are 41in (104 cm) in length and come in three sizes with varying resistances. Our natural rubber latex is over 99.998% free of soluble proteins (latex allergens). Effects of use by people with latex sensitivity is unknown and not recommended.
Stats
Weight: 1.5 lbs (0.7 kg)
Resistance: 5-100lbs
Length: 41 inches
Package Includes
two (2) Soft Hand Grips
two (2) Carabiners
one (1) Door Strap
one (1) Travel Bag
one (1) Exercise Manual
one (1) Rubberbanditz DVD
one (1) Light Band
one (1) Medium Band
one (1) Heavy Band
Rubberbanditz Fitness Bands
Our seamless latex bands are made through a continuous layering process to prevent breakage. For this reason, each band can stretch up to 2 1/2 times the original length, creating a wide range of tension levels.
Great for: Pullups – Powerlifting – Pilates – Yoga – CrossFit
Enhances Strengthening, Stretching and Toning
Tough on Muscles – Safe on Joints